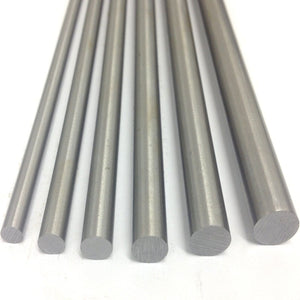 4.7mm (0.185" Thou) Diameter x 330mm Long Metric Silver Steel (BS1407) For Staking Set / Staking Tools
All the silver steel we supply is manufactured in the UK
This 4.7mm silver steel is commonly used by watchmakers for making stakes for there staking sets
Silver Steel is a versatile high carbon tool steel which is ground to very close tolerances.  It is so called because of its highly polished appearance created by the extremely fine surface finish.  The high carbon content of this BS1407 silver steel means that it can be hardened to give considerable wear resistance and the chromium content increases strength and hardenability.  It is readily machinable as supplied in the spheroidised annealed condition. The material as delivered shall have a hardness of not more than 285HB when measured in accordance with BS240*
Silver steel can be used in numerous applications including screwdrivers, punches, shafts, axles, pinions, pins, die posts, instrument parts, model parts, taps and drills for mild steel, engravers' tools, and fine cutters.
---
| | | | |
| --- | --- | --- | --- |
| Carbon | 1.00% | Silicon | 0.30% |
| Chromium | 0.40% | Manganese | 0.35% |
---
Produced and supplied as a precision ground bar with a surface finish better than 0.6 microns silver steel round bar is supplied to the following tolerances.
Tolerance on the 4.7mm Diameter is +0.005mm/-0.025mm
---
Heat uniformly to 770-780°C until heated through. Quench in water. 
---
Temper according to the purpose for which the parts are required, generally between 150-300°C.
---
Silver steel bar is supplied annealed. When hardening consideration should bee given to heat treatment temperatures, including rate of heating, cooling and soaking times will vary due to factors such as the shape and size of each silver steel component. Other considerations during the heat treatment process include the type of furnace, quenching medium and work piece transfer facilities. Please consult your heat treatment provider for full guidance on heat treatment of silver steel bar.
---
We Also Recommend