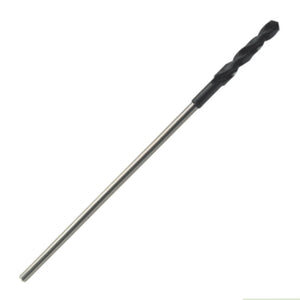 Formwork And Installation HSS Drill Bits
These long and extra long shank HSS drill bits are ideal for drilling in multilayer building materials or sandwich materials. They are ideal for the building trade, for interior fitting work, plumbing, heating and electrical installation.
Manufactured to DIN 7490. 118 Degree point edge
Compatible with all drills with a 13mm chuck
Suitable for use on -
Formwork, wood, hard/solid wood, softwood, planks, boards, plasterboard, light building materials, synthetic material, profile sheet, insulating materials, metals such as 
metal plates, materials sandwiched with steel, aluminium, ferrous metals or profile sheet etc.
| | |
| --- | --- |
| Size | Shank Diameter |
| 6x400mm | 6mm |
| 8x400mm | 6mm |
| 10x400mm | 8mm |
| 12x400mm | 8mm |
| 14x400mm | 8mm |
| 16x400mm | 10mm |
| 18x400mm | 10mm |
| 20x400mm | 10mm |
| 6x600mm | 6mm |
| 8x600mm | 6mm |
| 10x600mm | 8mm |
| 12x600mm | 8mm |
| 14x600mm | 8mm |
| 16x600mm | 10mm |
| 18x600mm | 10mm |
| 20x600mm | 10mm |
| 22mmx400mm | 11mm |
| 22mmx600mm | 11mm |
| 24mmx400mm | 11mm |
| 24mmx600mm | 11mm |
| 25mmx400mm | 11mm |
| 26mmx400mm | 11mm |
| 26mmx600mm | 11mm |
| 28mmx400mm | 11mm |
| 28mmx600mm | 11mm |
| 30mmx400mm | 11mm |
| 30mmx60mm | 11mm |
---
We Also Recommend