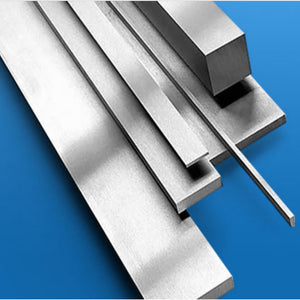 3/32" x 10" x 18" Ground Flat Stock / Gauge Plate
High Quality Precision Ground GFS (Ground Flat Stock) Tool Steel
Also commonly known as A.I.S.I. 0-1, 01, BS4659 BO1 and Werkstoff Nr 1.2510
Tolerances on imperial Ground Flat Stock -
Thickness  +0.001"/-0.001"
Width  +0.005"/-0.000"
Length +1/8"/-0
Oil hardening gauge plate which is supplied in an annealed condition. It offers good durability, gives excellent wear resistance and holds a good cutting edge. An excellent general purpose grade. Applications include medium run dies, press tools, drawing punches, broaches, bushings, lathe centres, chuck jaws, master cavity sinking hobs, paper cutting machine knives, plug gauges, thread gauges and precision measuring tools. It is also used in applications such as cams, cloth cutters, cold taps, reamers, trimmer dies, tube expander rolls, plastic moulds and woodworking cutters, collets, cutting hobs and strip slitting cutters. Top & bottom surfaces supplied in ground condition. Both ends supplied sawn cut.
The nominal chemical composition is as follows:-
Carbon 0.95%
Manganese 1.2%
Chromium 0.50%
Tungsten 0.50%
Silicon 0.25%
Vanadium 0.20%
S & P up to 0.035% maximum
---
We Also Recommend